Muddy Waters Cinnamon Camee
 30 – 09- 2000 –  19 – 08 – 2015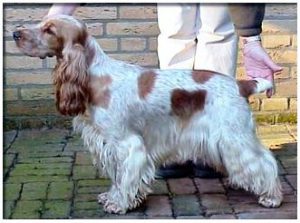 " Cenna "

In april 2001 debuteerde Cenna in de puppyklasse bij KC de Scheldezoom en werd beste pup van het ras.
Op Kampioens Clubmatch van de Nederlandse Spaniel Club 2001 werd Cenna beste Jeugdteef !!

Bencleuch
Bruichladdich
Lynwater Rising Sun
Lynwater Blue Rebel
sh
ch Bitcon Troubadour
Lynwater
Tiger Lily
Lynwater Sun GLow
Lynwater
Sailor
sh
ch Lynwater Dawn Shimmer
Spinneyhill Saphire
Lynwater Bouncer of Spinneyhill
Lynwater
outward Bound
Tell
Tale of Lynwater
Spinneyhill Sense of Rythm
sh
ch Lindridge Salute
Spinneyhill
Simone
Kaya of Qubo's Home
Glarus
Shooting Star
Stonemill the Laird
Stonemill
Fargo of Lochrahza
Stonemill
Lady Louise

Glarus Alice in Blue

Glarus
Mirror Image
Citronella
of Glarus

Anouk of Qubo's Home

Kamp. Hazari High Hope

Cilleine
Echelon
Cochise
Chance Step

Normanview Scots Maid

 Normanview
Stormtrouper
 Normanview
Smokey Blue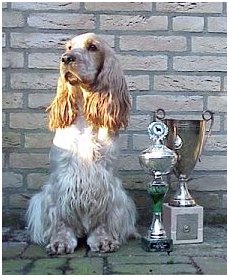 Kampioensclubmatch 2001, beste Jeugdteef !!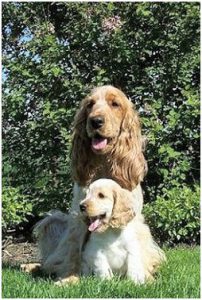 Cenna met haar dochter Jara !!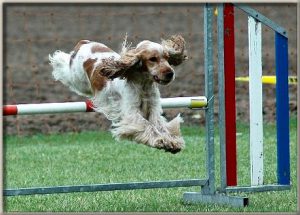 Cenna laat u graag zien waar een cocker enorm van kan genieten !!